Peter Pan Must Die
Reviews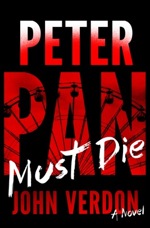 "Nero Award finalist Verdon combines a brilliant puzzle and psychological insight into his sleuth, Dave Gurney, in the stellar fourth novel featuring the retired NYPD homicide detective (after 2012's Let the Devil Sleep). Much to the dismay of Gurney's wife, he agrees to work on another case instead of relaxing at the couple's upstate New York property. Jack Hardwick, who lost his job with the state police after helping Gurney in the previous book, asks the detective to help overturn a murder conviction. Kay Spalter was convicted of shooting to death her husband, Carl, a gubernatorial candidate running on an anti-Mafia platform, at his mother's funeral, but some people think she was framed. Hardwick wants Gurney simply to identify irregularities in the investigation so as to make an appeal successful, but the only way Gurney knows how to do that is to find the truth. The plot is full of Verdon's usual challenges (e.g., it was apparently impossible for the murder to have been carried out), but the cleverness is surpassed by the probing analysis of what makes Gurney tick." — Publishers Weekly (Starred Review)
"Verdon hit the ground running with his debut novel (Think of a Number, 2010), and he hasn't lost a step through three more fine thrillers. Here retired NYPD homicide detective Dave Gurney is asked to investigate what may be a cooked guilty verdict in the murder of real-estate tycoon and gubernatorial candidate Carl Spalter. He quickly finds evidence that will overturn the conviction and release Spalter's wife from prison, but he also finds hints that the real culprit is a bizarre, almost-diabolical European assassin known as Peter Pan. Gurney concludes that the only way to stop the assassin is to become his next target. Verdon's novels, now read in 20 languages, feature serpentine plots, heightening suspense, skillfully developed characters, and a rich sense of place. Peter Pan Must Die has all of these, but it adds realistic marital tension: Dave's wife, Madeleine, wants Dave to stop risking his life and build a chicken coop, and Dave responds with some insightful introspection before returning to the work that truly animates him. Members of the singularly dysfunctional Spalter family are vividly rendered, and Peter Pan may well be the creepiest fictional psychopath of the year. Mix in bent cops, gangsters, politics, big money, lies, and hints of incest, and you have a wonderfully compelling page-turner." — Booklist (Starred Review)
"Verdon's fourth Dave Gurney thriller (after Let the Devil Sleep) weaves a sophisticated and edgy web of suspense that mystery aficionados will love to help unravel. A taut plot filled with clever intrigue and unexpected twists will tantalize readers until its dramatic and startling conclusion." — Library Journal (Starred Review)
"Verdon's successful series—featuring thoughtful, puzzle-solving retired NYPD detective Dave Gurney—adds another chapter with this dark tale of a demented contract killer who becomes entangled with a rich, but disturbed, family… a taut, fascinating tale…" — Kirkus Reviews
"I'm a recent convert to the crime/thriller genre, but John Verdon has made me an eager and willing supplicant to a whole category of books I once sneered at. Mr. Verdon writes about genius-level criminals who really have committed perfect crimes. Alas, these smug killers never counted on the sheer intuitive brilliance and doggedness of retired NYPD homicide detective Dave Gurney, a modern Sherlock Holmes and Watson rolled into one." — Pittsburgh Post-Gazette
"Peter Pan Must Die is the fourth entry in author John Verdon's Dave Gurney novels. The first three were apparently international best-sellers, and this one will likely prove no exception to that stellar streak.
Verdon demonstrates remarkable skill here in weaving a fascinating and puzzling murder/suspense web. He presents us with a terrific variety of potential murderers and/or murder planners, and all the suspects are, to varying degrees, rather disgusting characters with ample motive to kill the first victim, who is/was as entirely unlikable as the suspects themselves.
That victim, one Carl Spalter, is murdered in strange and eerie circumstances. His mother, who had lived in a senior citizen's home, has just died. So the disgusting Spalter and all his disgusting family attend the funeral, where Spalter is killed with one shot as he moves to the podium to speak about his deceased mother.
The attendees include his messed-up druggie daughter, who may inherit his immense fortune, and his televangelist-like brother, who is one of those too-good-to-be-true kinds of slimy guys. He has had a hate-hate relationship with his brother for both of their entire lives.
Meanwhile, lurking nearby is the actual shooter, who must be a superb marksperson to accomplish the amazing kill shot. Also nearby is Spalter's soon-to-be-divorced wife, who, not so incidentally, has been taking shooting lessons. She has also been convicted of the murder — apparently wrongfully convicted.
And who wouldn't want to be rid of Spalter? He was a greedy, super-ambitious, mafia-connected hypocrite who was preparing to run for governor on an anti-organized crime platform. It's an electrically entertaining cast of eccentric ugly characters, all drawn superbly by Verdon.
But the protagonist, Dave Gurney, and those close to him are also fascinating characters. Gurney is the nearly prototypical tortured semi-genius ex-cop detective. He's surpassingly brilliant, sort of a cross between the logician Einstein, the philosopher Confucius, the master detective Sherlock Holmes, and the courageous Lone Ranger. One of the characters points out that most detectives want to figure out the puzzle in order to solve the crime; Gurney wants to solve the crime in order to figure out the puzzle. And Gurney's Tonto, partner-in-crime-solving extraordinaire, is one Jack Hardwick, who is obscene, grouchy, vulgar, and an altogether wonderful character.
There is an abundance here of descriptive detail covering both the scenery and the characters — perhaps even an over-abundance. And there's a great deal of semi-believable coincidence involving both the murder itself and the solution to the mystery. But the building of suspense, the multi-character development, the beautiful logic of the solution, the effective dialogue, and the colossally explosive conclusion all overcome these minor flaws.
And there are even two over-arching, organically emergent themes: 1. "There's nothing in life that matters but love;" and 2. Be careful about assumptions; they may seem to be based on objective observation and evaluation of facts, but they are often even more dependent on the pre-conceived notions we bring to them.
And those truths are as wise as the protagonist himself."
— examiner.com
"Every time I read one of these thrillers, I find it hard to believe that the author can do it again, but he does, again and again. Highly recommended!" — BookLoons Reviews
"John Verdon's skillful melding of the puzzle mystery with the police procedural and the psychological thriller brings a unique spin to his series about retired NYPD homicide Detective Dave Gurney ...
While a strong crime fiction story fuels Peter Pan Must Die, the dynamics between Dave and his wife, Madeleine, continue to be the center of Verdon's series. Madeleine wants Dave to be content to live on the farm they bought near the Catskills in upstate New York. She takes delight in building a chicken coop and enjoying the scenery while Dave, who took early retirement at 48, is restless. Where she sees a tranquil landscape, he sees the potential for violence. She worries that Dave's involvement in the occasional case belies a deeper psychological unease.
Verdon's plot devices are intelligently layered ... The denouement is one of the most unusual in crime fiction, and yet is perfectly logical. Verdon's cleverness again shines in Peter Pan Must Die." — Associated Press
"After four books, we still love following the life and evolution of Dave Gurney. Verdon's portrayal of the protagonist is brilliant ... Peter Pan Must Die is a thrilling read. The rhythm of the novel keeps you on the edge until the last pages–John Verdon has done it again."
—Downtown Magazine
"One of the truly great puzzle mysteries of the year."
—Bookreporter